In wrâldreis yn 80 dagen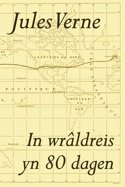 Jules Verne is one of the most translated authors of all times. His works have appeared in almost 100 languages, from Swedish and Spanish to Thai and Maori and have even been translated to small, endangered languages such as Cornish, Upper Sorbian and Niuean. Until recently, no editions in Frisian, a regional language in the Netherlands spoken by over 100,000 people, existed.
The Dutch Jules Verne Society has changed this state of affairs with the publication of In wrâldreis yn 80 dagen, a Frisian edition of Le Tour du monde en 80 jours (Around the World in 80 Days), one of Jules Verne's most famous novels.
The story is about the English gentleman Phileas Fogg, who wagers that he can travel around the world in only 80 days, an almost unthinkable feat at the time. Together with his French manservant, Passepartout, Fogg begins his race against time, encountering many obstacles along the way.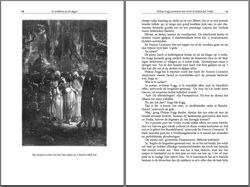 In wrâldreis yn 80 dagen was translated directly from French to Frisian, so that the lively dialogues and the subtle humour are accurately rendered. The translation by Syt Bakker-Palma is complete and unabridged. The book contains all the original engravings. In a preface, Piet Akkerman discusses the origins and the influence of the novel.
With In wrâldreis yn 80 dagen, the Dutch Jules Verne Society aims to promote Jules Verne and his works in the region Friesland. Readers who like to read Frisian can enjoy one of literature's great classics in this way. The book can also be a useful tool in Frisian education.
This paperback edition of In wrâldreis yn 80 dagen contains 258 pages, and is printed in black and white with a full-colour cover.
ISBN: 978-90-78363-16-3
© 2010 – Jules Verne Genootschap
This publication was supported by the Douwe Kalma Stichting.
Order In wrâldreis yn 80 dagen
In wrâldreis yn 80 dagen costs € 17. Members of the Dutch Jules Verne Society, and non-profit organisations such as libraries and schools, pay € 14.
Shipping costs within the Netherlands are € 5. For shipment to other countries, we will give you a quote. You can also pick up your order at our next meeting. You can order one or more copies by filling out the form below. Note: we will only ship your order after your payment has been received.
Order form