De graaf van Chanteleine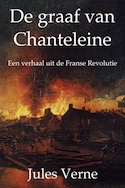 In the year 1793, the French Revolution is in full swing. The Republic has been declared, the king has been executed, and the power is in the hands of radical revolutionaries under Robespierre. Opponents of the regime face the guillotine. In Brittany and the Vendée, an uprising of peasants and noblemen develops into a bloody civil war. After a series of victories, the Catholic and Royal Army is finally defeated by the republican troops.
During the aftermath of the revolt, the Count of Chanteleine learns that his wife and daughter are in grave danger. Accompanied by his faithful servant Kernan, the Count hurries to his castle in the remote parts of the Finistère. Will he be in time to save his family? And will he be able to stay clear of the bloodthirsty republicans himself?
In De graaf van Chanteleine, Jules Verne, who is mainly known for his adventurous travel stories, shows his talents as a writer of historical fiction. The Dutch Jules Verne Society publishes this unknown work of the great author for the first time in Dutch. Detailed historical background information helps the reader understand the context.
This paperback edition of De graaf van Chanteleine contains 150 pages, and is printed in black and white with a full-colour cover. All original engravings are included, as well as three maps showing the locations where the story takes place.
ISBN: 978-90-78363-17-0
© 2012 – Jules Verne Genootschap
Order De graaf van Chanteleine
De graaf van Chanteleine costs € 12 for members of the Dutch Jules Verne Society, and € 15 for non-members.
Shipping costs within the Netherlands are € 5. For shipment to other countries, we will give you a quote. You can also pick up your order at our next meeting. You can order one or more copies by filling out the form below. Note: we will only ship your order after your payment has been received.
Order form