Filmography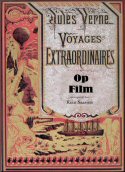 Already during Jules Verne's lifetime, the first film based on one of his works was produced: Le voyage dans la Lune, by Georges Méliès. Many more film versions of Verne's stories would follow, including classics such as Around the World in 80 Days by Michael Todd and the Disney version of Twenty Thousand Leagues Under the Sea.
Our member Rein Saariste created an overview in which 176 motion picture adaptations of Jules Verne's stories are described. The most important details of each film are given: director, producer, year and country, length, short summary, etc. The filmography contains many full-colour illustrations.
Order the filmography
The filmography is sold out. If you would like to obtain a copy, you can send us your name and (email) address at wishlist@jules-verne.nl. In case of sufficient interest, there may be a reprint.