Mrs. Branican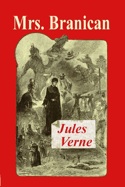 Jules Verne's novel Mistress Branican was published in 1891 in the Magasin d'éducation et de récréation (Paris). In the same year, the rights for a Dutch translation were acquired. However, the book never appeared as nr. 52 in the famous series of "blue covers" published by Elsevier. In fact, it was never even translated to Dutch.
Yet this is one of Verne's great unknown novels, featuring Dolly Branican, one of his finest heroines. The Dutch Jules Verne Society has taken up the task of translating and publishing the novel.
This hardcover edition of Mrs. Branican, bound in a full-colour cover, contains 428 black and white pages. All 83 original engravings by Léon Benett are included, as well as maps of Oceania and Australie. The book's dimensions are 15.5 × 23 cm.
ISBN: 978-90-78363-15-6
© 2009 – Jules Verne Genootschap
Order Mrs. Branican
Mrs. Branican costs € 20 for members of the Dutch Jules Verne Society, and € 25 for non-members.
Shipping costs within the Netherlands are € 5. For shipment to other countries, we will give you a quote. You can also pick up your order at our next meeting. You can order one or more copies by filling out the form below. Note: we will only ship your order after your payment has been received.
Order form