Edgar Poe en zijn werk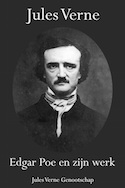 The works of the American author Edgar Allan Poe have had an enormous influence on Jules Verne. Various elements in the Extraordinary voyages are clearly nspired by Poe's tales: the Maelstrom in Twenty Thousand Leagues under the Sea, the cryptogram in Eight Hundred Leagues down the Amazon and the trip to moon can be cited as examples. Verne even wrote a sequel to Poe's Narrative of Arthur Gordon Pym.
In 1864, when the series of the Extraordinary voyages was just getting started, Verne published an essay on Edgar Poe and his works, discussing the author's life and analysing his most important stories. This essay is now published in a Dutch translation.
This black and white paperback edition of Edgar Poe en zijn werk contains 54 pages. All original engravings are included.
ISBN: 978-90-78363-21-7
© 2016 – Jules Verne Genootschap
Order Edgar Poe en zijn werk
Edgar Poe en zijn werk costs € 10 for members of the Dutch Jules Verne Society, and € 12 for non-members.
Shipping costs within the Netherlands are € 5. For shipment to other countries, we will give you a quote. You can also pick up your order at our next meeting. You can order one or more copies by filling out the form below. Note: we will only ship your order after your payment has been received.
Order form