De reis door het onmogelijke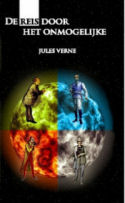 The play Voyage à travers l'impossible, written by Jules Verne in collaboration with Adolphe D'Ennery, was staged 97 times in 1882 and 1883. After that time, it was all but forgotten, until the text was rediscovered and published for the first time in 1981. The play sheds new light on Jules Verne' opinions on science and progress.
Our member Dave Bonte, Master of Roman philology, translated this play in Dutch, under the title De reis door het onmogelijke. This edition also contains a preface by prof.dr. Robert Pourvoyeur, renowned expert on Jules Verne and theatre.
This paperback edition of De reis door het onmogelijke contains 265 pages, and is printed in black and white with a full-colour cover.
ISBN: 978-90-9021899-1
© 2007 – Dave Bonte
Order De reis door het onmogelijke
De reis door het onmogelijke costs € 17 for members of the Dutch Jules Verne Society, and € 20 for non-members. Shipping costs within the Netherlands are € 5. For shipment to other countries, we will give you a quote. You can also pick up your order at our next meeting. You can order one or more copies by filling out the form below. Note: we will only ship your order after your payment has been received.
Order form