Het tweede vaderland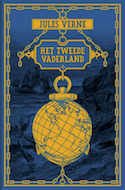 Jules Verne's novel Seconde patrie is the sequel to The Swiss Family Robinson, by Johann David Wyss. As a boy, Jules Verne was very fond of this story, and he remained so throughout his life. In 1900, he published his two-part sequel, describing the further adventures of the family after their island had been discovered.
This hardcover, luxury edition of Het tweede vaderland contains 384 pages. All the original engravings are included, some in full colour.
ISBN: 978-90-78363-23-1
© 2021 – Jules Verne Genootschap
Order Het tweede vaderland
Het tweede vaderland costs € 25 for members of the Dutch Jules Verne Society, and € 60 for non-members.
Shipping costs within the Netherlands are € 7.50. For shipment to other countries, we will give you a quote. You can also pick up your order at our next meeting. You can order one or more copies by filling out the form below. Note: we will only ship your order after your payment has been received.
Order form