The Dutch Jules Verne Society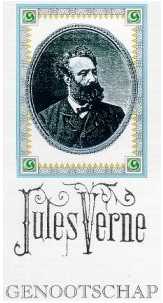 The Dutch Jules Verne Society (Jules Verne Genootschap) was founded on 25 October 1997. Its aim is to collect, process and distribute information of and about Jules Verne and his works, and of publications on this subject. In order to do this, the Society organizes meetings and activities for its members and for others.


Photos of activities.
Meeting
Twice a year, there is a meeting of the Society. The people present have the opportunity to trade books, old valuable antiquarian books as well as more modern ones, e.g. in other languages. In spring the general assembly takes place, in autumn there is a shorter discussion session. Then there is a talk, a film-show or something similar. The meeting ends with the distribution of the Verniaan.


Look at the up-to-date information for the time and place of the next meeting.
Publications
The Dutch Jules Verne Society releases various publications. Twice a year the members receive the Society's magazine, the Verniaan. Each issue is dedicated to a novel of Jules Verne and contains articles, bibliographies, photos of covers, etc.
Bibliographic publications appear frequently, like the Jules Verne Bibliography and the Collector's compendia.
The Society also publishes stories by Jules Verne that are hard to find, or have even never been published as a volume before.


Overview of publications by the Dutch Jules Verne Society.
Archive
The Society has an archive collecting all publications, in Dutch language, about Jules Verne and his works. The archive contains thousands of books, magazines, clippings, videotapes, and other materials.


More information about the archive.
About Jules Verne
Jules Verne was born in 1828 in the harbour city of Nantes. He studied law in Paris, but was more taken to theatre and literature. In 1863, the publisher Hetzel published Five weeks in a balloon, Verne's first novel in the series Extraordinary Voyages, in which 63 more titles would appear. In 1872, the Extraordinary Voyages were crowned by the Académie française. Except novels, Jules Verne wrote dramas, operettes, poetry, geographical and historical studies, and some popular-scientific articles. For a long time, he has been considered primarily as an author for children and as the "father of science fiction". Fortunately, the interest in other aspects of his work has continuously increased over the years.
For more information about Jules Verne and his works:


Short biography and review of his works (in Dutch).


Overview of Dutch translations of his works.
Contact
For those who would like to stay informed of the activities of the Dutch Jules Verne Society, there is a mailing list and an RSS-feed (in Dutch only).
If you would like to get more information on the Dutch Jules Verne Society, you can contact us.