P'tit Bonhomme
For years, it had been assumed that P'tit-Bonhomme was one of the five novels by Jules Verne that had never been translated to Dutch, until the existence of a translation was discovered at the end of 2005. This translation, titled P'tit Bonhomme, was serialised in the magazine Jong Holland. The first edition in a volume, and the first edition since 1893, has been published by the Dutch Jules Verne Society.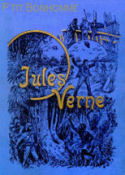 The editor of Jong Holland was J.H. van Balen (1851–1921), who also translated Jules Verne's novels for the series published by Vivat. Therefore, this new edition has a luxury cover in the style of the original Vivat series. Van Balen's translation was kept intact as much as possible. Almost all original engravings from the Hetzel edition, including some in colour, are included in this edition.
ISBN: 978-90-78363-01-9
© 2007 – Jules Verne Genootschap
P'tit Bonhomme is sold out.