From the archive
Click on the images to enlarge them.
Het boek voor de jeugd (The book for young people, 1938)
In 1937, an impressive book appeared under the name Het boek voor de jeugd (The book for young people). It was to be reprinted five times until 1957. From 1938 onwards, the name of the publisher changed from De Arbeiderspers to De Amsterdamsche Boek- en Courantmaatschappij (The Amsterdam Book and Newspaper Company). No details are known concerning this name change.
This book has 768 pages and contains 170 stories from over 80 different authors, including Jules Verne's De avonturen van Kin-Fo als bruinvis (Adventures of Kin-Fo as a porpoise), an episode from Tribulations of a Chinaman in China. According to an advertisement in The Leeuwarder Courant (Newspaper) dated 17 March 1938, there are eight full-page sized colour illustrations on special art paper, a red morocco cover, gold embossed by J.B. Heukelom, and a colourful dust-jacket designed by Ruscha Wijdeveld. The price was 2.90 guilders. Further details can be read from the advertisement.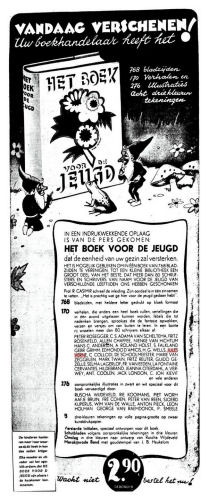 Later editions are also bound in half-cloth. The sixth edition had a plain grey linen cover with red flowers on the front cover and a pretty yellow dust jacket.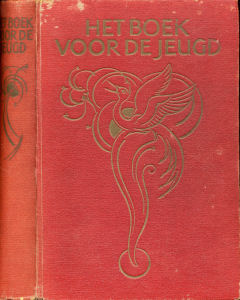 Sources:
Het Jules Verne Genootschap, 2007. Jules Verne Bibliografie, 2nd edition, pp. 100-101.

Back to the overview "From the archive"