From the archive
Click on the images to enlarge them.
A theatre programme booklet for Around the world in 80 days, Antwerp (1909)
Theatre shows of Around the World in 80 days in The Netherlands date back to 1875 (see: Ludeker: In de ban van Jules Verne, p. 229). They started earlier in Belgium/Brussels, as appears from this text on a flyer from publisher Van Santen for this first volume in the Wondrous Travels series:
The melodrama based on Verne's Around the world in 80 days, has been shown already 375 times in Paris, 290 times in Brussels and has been on show daily in Amsterdam for the past months.
I managed to acquire for our Archive an original rare, 99 years old original theatre programme booklet from Antwerp, Belgium, dated 1909. In our modern eyes it is almost unconceivable that Around the world could have been performed as enthusiastically for over 30 years and that it could continue to be popular. In 1903, the newly built "Hippodrome palace" opened its doors on Square Leopold de Wael, opposite the Museum of Fine Arts in Antwerp. It served as a theatre for popular amusement, in which circuses operated, and spectacular shows and great theatre plays were performed. As usual in these days, the name of the theatre changed according to the way in which it was used. For theatre plays it was also called the "Volksschouwburg van Antwerpen" (Antwerp's popular theatre).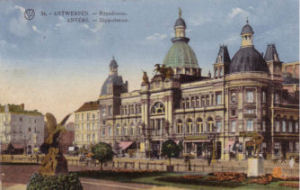 Not surprisingly therefore, both these names appear on the front cover of the theatre programme booklet. The subtitle of the programme reads: Sensational play in 5 acts or 15 scenes after Jules Verne's world-famous novel written by F. van Doeselaer.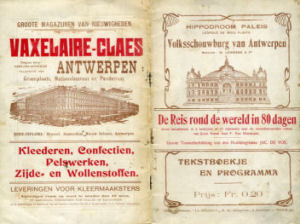 The charming octavo-sized booklet has 24 pages and contains the names and the order of the acts and scenes for the "brilliant shows" to be provided twice daily, the cast, with portraits, prices of the tickets, brief summaries of all 15 scenes, plenty of advertisements, as well as a map of the hall showing the rows of seats.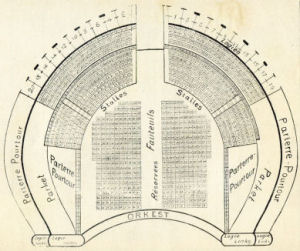 Apart from the already mentioned Mr. van Doeselaer, who adapted the book for the stage, some further organizers are mentioned in the booklet:
Hippodroom/theatre director Willem Lemmens (who would die within nine months of this show at 59 years of age), see the Dutch newspaper clipping below dated May 29th 1910;
Chief producer Mr. Jac. de Vos;
M. La Jeunesse, "owner and conductor of the materials, décors, costumes, ballets, tame elephant, etc. etc."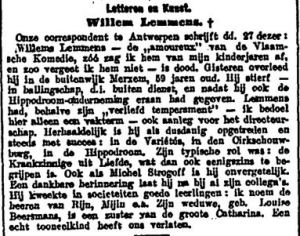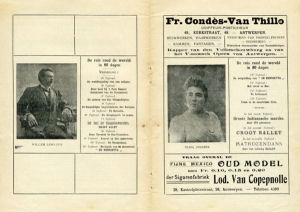 The cast was as follows: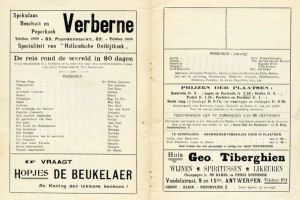 The Hippodrome palace continued for decades to be a popular theatre. The arrival of television marked the end of the popular shows performed there and consequently the palace closed its doors in 1958. After this, the building decayed until it was torn down in 1973.

Back to the overview "From the archive"