From the archive
Click on the images to enlarge them.
Three programmes for the silent film Mathias Sandorf (1921)
Starting in August, 1921, the film Mathias Sandorf was shown in Dutch cinemas. The archive contains three original booklets with the programme of Cinema Palace, Kalverstraat, Amsterdam (from the collection Helling). These programmes were apparently distributed in the cinema, as can be inferred from the text on the cover: "For complaints, please address to the direction".
This film consisted of three installments that were shown during a week each. In 1921, this was described somewhat cryptically as an "extraordinary three-week serial film in 20 acts". The show took place continuously from half past one in the afternoon to eleven in the evening.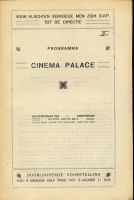 The three booklets contain eight pages each, and provide, besides the complete programme on the centre pages, a short description of the film's contents. The music was made by Max Tak.
The Biografisch Woordenboek van Nederland has some interesting information on this (in Dutch only):
Tot eind 1916 bleef Tak verbonden aan het Concertgebouw-Orkest, de laatste jaren bij de eerste violen. Toen deed de directeur van 'Cinema Palace' in de Amsterdamse Kalverstraat hem een aanbod dat hij niet kon weigeren: 'Je kunt bij mij per maand verdienen, wat je bij het Concertgebouw in een jaar hebt' (Algemeen Handelsblad, 26-10-1961). Tak nam met spijt afscheid van zijn vaste plaats bij Mengelberg en formeerde naar eigen inzicht een bioscooporkest. Wekelijks stelde hij de muziek ter begeleiding van de zwijgende films samen: een behendig weefwerk van thema's uit het populair-klassieke repertoire en eigen verbindende melodielijnen, die de gebeurtenissen op het witte doek extra dramatiek verleenden.

De mare dat het orkest van 'Cinema Palace' het beste bioscooporkest van de stad in huis had, kwam ook ter ore van de Rotterdamse bioscoopexploitant Abraham Tuschinski, voor wie 'het grootste van het grootste' nauwelijks genoeg was. Toen deze in 1921 zijn eigen filmpaleis in de Reguliersbreestraat in Amsterdam opende, stond Tak dan ook voor het orkest. Bijna twintig jaar lang — tot aan de Duitse bezetting — vormde zijn bioscooporkest één van de trekpleisters van het 'Tuschinski Theater', ook toen de levende muziek een minder prominente rol kreeg door de komst van de geluidsfilm. Week in week uit stelde Tak de muziek samen, die hij vervolgens tijdens twee of drie voorstellingen per dag dirigeerde. Bovendien trad hij op als publiciteitschef van het theater. Hij schreef veel programmaboekjes vol, redigeerde het blad Tuschinski Nieuws en was ook de (anonieme) auteur van de daarin gepubliceerde memoires van Abraham Tuschinski.
The film was first shown in Rotterdam (Tivoli, 12 August to 1 September, 1921), then in Amsterdam (Cinema Palace, 2 to 22 September, 1921) and Den Haag (Residentie-Bioscoop, 7 to 27 October, 1921). Here is a selection of relevant newspaper advertisements from our archive: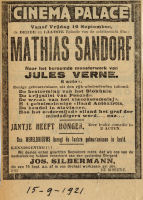 At the Kalverstraat nr. 224, the Cinema palace could be found from 1912 to 1927. From 1927 to 1983, it was the Roxy cinema. Since 1983, the fashion store Roxy-1 has used the building.
Further information:
Saariste, R. (2004). Overzicht van alle Jules Verne films van het begin van de cinema tot en met 2000. Book number 29: Mathias Sandorf. Publication of the Dutch Jules Verne Society, 178 (unnumbered) pages.

Back to the overview "From the archive"