From the archive
Click on the images to enlarge them.
De Kindervriend, Belgian weekly children's journal contained five serialized Verne stories: information now complete thanks to reactions from readers
The third edition of the Dutch Jules Verne Bibliography 1864-2012, published by the Jules Verne Genootschap, was compiled by Frits Roest and Kees Waij. Although it is the result of many years of specialized research, some questions still remained. One of these concerns the serialized Verne stories in the Belgian children's journal 'De Kindervriend'. A kind reaction from Mr. Cor Laurens to our call for assistance on this website finally enabled us to correct and complete our information.



De Kindervriend, geïllustreerd weekblad voor de jeugd. 1911–1940. Publisher: Patria, Antwerpen. Comic magazine, which in the period 1932–1937 contained five serialized Jules Verne novels:
Een kapitein van vijftien jaar. Volume 1932, nr. 28 through volume 1933, nr. 52.
Een overwintering in het ijs. Volume 1934, nrs. 01–12.
Vijf weken in een luchtballon. Volume 1934, nrs. 13–52.
20.000 mijlen onder zee. Volume 1935, nr. 1 through volume 1936, nr. 13.
Het land der buitenste duisternis. Volume 1936, nr. 14 through volume 1937, nr. 34.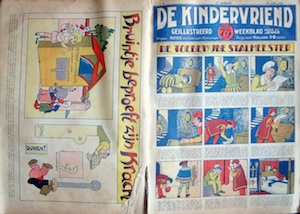 Back to the overview "From the archive"