From the archive
Click on the images to enlarge them.
De Kindervriend, an as yet unexplored Belgian children's journal with unknown Verne stories: a call for assistance
We are in the process of preparing for the new edition of the bibliography of Jules Verne's work in The Netherlands and Belgium. To this end, we have been actively searching for additions and corrections to the first edition of the bibliography prepared by Kees Waij (1999) and published by the Dutch Jules Verne Genootschap. Most of the relevant new findings have already been incorporated in the collector's compendia.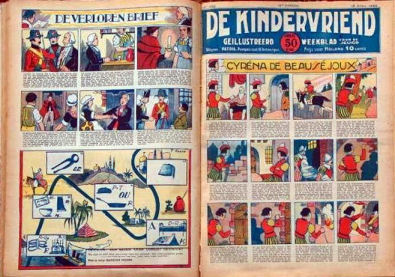 Nevertheless, the Jules Verne stories published in the Belgian children's journal De Kindervriend (1911–1940) have not yet been found and examined. The illustration provides an impression of what the journal looks like. Waij's bibliography mentions on page 124:
De Kindervriend, illustrated weekly journal for children. Patria publishers, Antwerp. Cartoons.

In the first volumes: Journey to the moon in 28 days and 12 hours.

1932-1935: titles unknown

1936-1937: The fur country
This information was found in the study listing all children's journals in The Netherlands and Flanders 1757–1942 (Marjoke Rietveld-van Wingerden, see below for the complete reference), but we have as yet been unable to trace and examine De Kindervriend. Who can provide us with more detailed information and photographs? Which years and which issues of the journal contained these Verne stories?
References
Kees Waij, 1999. Wonderreizen. Jules Verne Bibliografie 1864-2000. Het Jules Verne Genootschap, 201 p. ISBN 90-90128-40-9
Marjoke Rietveld-van Wingerden, 1995. Jeugdtijdschriften in Nederland & Vlaanderen 1757-1942. Bibliografie. Primavera Pers, Leiden, 384 p. ISBN 90-74310-15-X

Back to the overview "From the archive"