From the archive
Click on the images to enlarge them.
Verne title taken out of context (1927)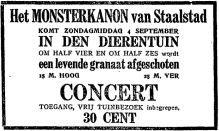 The titles of Jules Verne's novels were so well known that they were frequently used as an expression. In this advertisement, "Het monsterkanon van Staalstad" is the Dutch title for Les 500 millions de la Bégum. It appeared in the newspaper Het Vaderland on September 3rd, 1927.
On Sunday afternoons, a concert was given at the zoological garden of The Hague, for which the entrance fee was 30 cents. The monster gun shot a human projectile 15 metres high and 25 metres far. (The zoo was later destroyed during the war).

Back to the overview "From the archive"