Archive catalogue, part II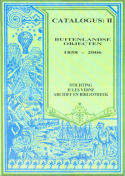 Although the main goal of the Foundation Jules Verne Archive and Library is to collect publications in Dutch, it also contains hundreds of objects in other languages, mainly French. These objects are listed in this second Catalogue.
Order the catalogue part II
The catalogue part II is sold out. If you would like to obtain a copy, you can send us your name and (email) address at wishlist@jules-verne.nl. In case of sufficient interest, there may be a reprint.