Archive catalogue, part I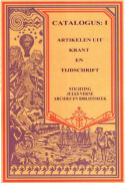 The Foundation Jules Verne Archive and Library has published a catalogue of the ca. one thousand newspaper and magazine articles in its collection, from 1866 to now. The catalogue contains a short summary of each article and an index of authors. The catalogue has 106 pages.
The archive's collection is constantly growing, and this catalogue is not complete. New editions will be published over time. Other material in the archive, such as books, plays, leaflets, advertisements, etc., will be listed in other catalogues.
Order the catalogue part I
The catalogue part I is sold out. If you would like to obtain a copy, you can send us your name and (email) address at wishlist@jules-verne.nl. In case of sufficient interest, there may be a reprint.